Installation
The Teltonika FMB204 can be installed well hidden in the vehicle because the internal antennas for the GSM signal and GPS signal are equipped with amplifiers. Therefore we have a lot of possibilities where we install the device. As a rule, motorhomes have one battery for normal vehicle electrics and one or more for the living area, ultimately it does not matter which battery we connect the device to. We connected our device to the battery for the housing area because the battery is recharged again and again via solar and we were able to hide the Teltonika FMB204 well in the construction. The only disadvantage is that the lines for the engine shutdown are a bit longer. Before we really install the device, we should connect it to the battery until the internal battery is charged. Then put the device in the intended place and drive around the house to check whether the space is suitable for the internal antennas. We can follow our test drive in the online system. If the signal strength is okay and our journey has been properly recorded in the online system, the device can be permanently installed at this location.
Minimum connection - only continuous current and ground
We get e.g. a two-pole loudspeaker cable and corresponding cable lugs for the connection to the plus and minus pole of the desired battery and connect the red cable of the device with the plus line and the black with the minus line. So everything is ready for use.
Maximum connection - full integration into the vehicle electrics
Full integration into the vehicle electrical system should always be carried out by a specialist. For people who think they want to do it themselves, we have provided a connection diagram for the Teltonika FMB204 below. In order to then use all the possibilities of the device in the online tracking, it is sufficient to send us a message, then we adapt the device with a corresponding configuration via the Internet and release the corresponding commands in the online tracking, for example to activate the engine shutdown .
Teltonika FMB204 Connection diagram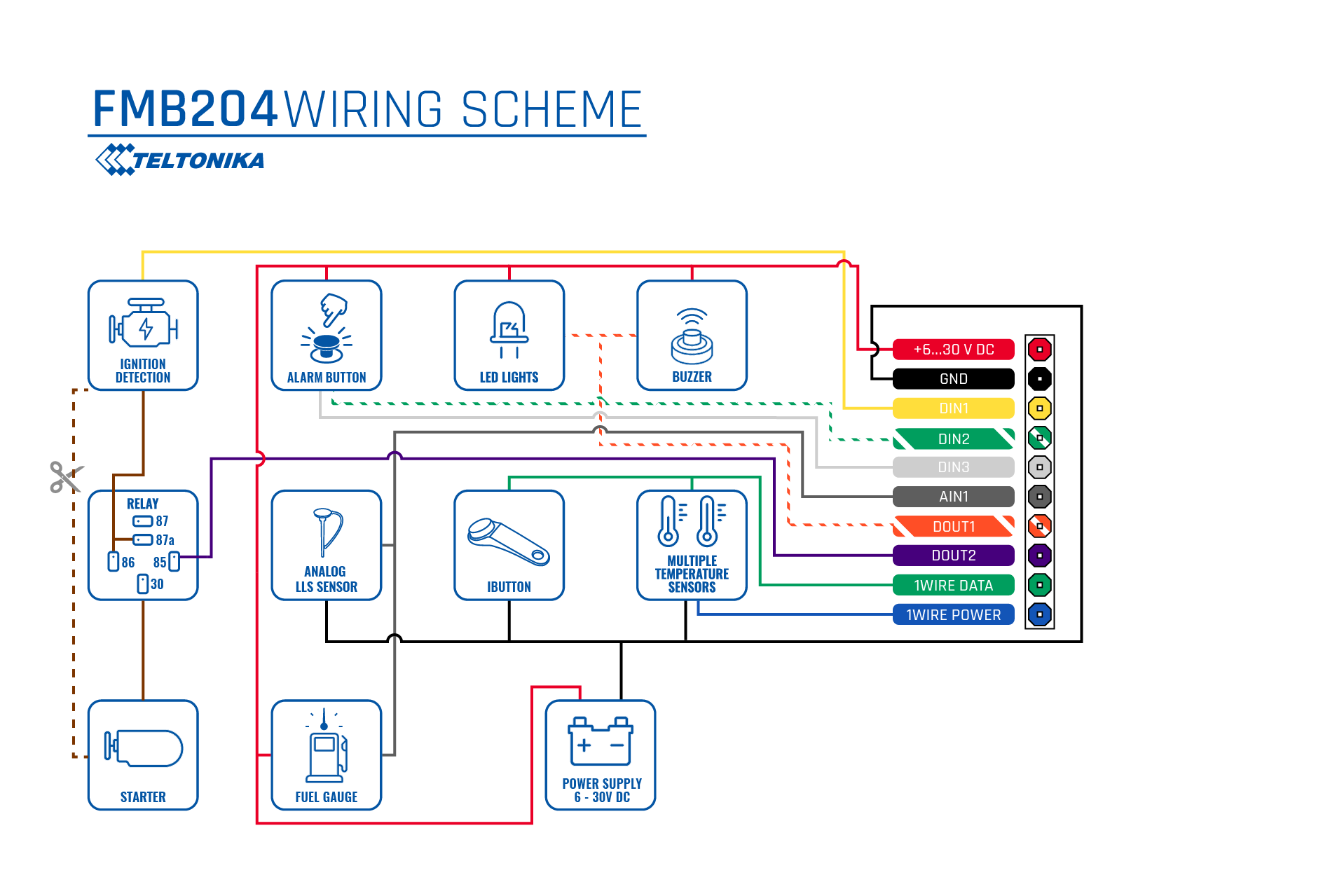 © 2020 - 2023 WoMoTracker.eu